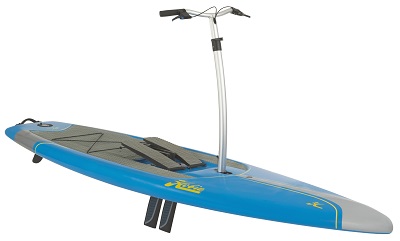 Step On And Go!
"Hobie's world-renowned hands-free MirageDrive propulsion - no paddle needed - has been perfected for the standup world. A natural stepping motion cycles the large topside pedals. The powerful underwater fins efficiently propel the Eclipse forward. Step out at an easy glide, effortlessly power into a headwind or pick it up for an all-out sprint. The Flow Fin 90s fold against the board for shallow water and beach landings. Quick and easy 'Click and Go' installation and removal for transport and storage."- Hobie Flier
CHECK OUT THE FEATURES THAT MAKE THE MIRAGE ECLIPSE A ONE OF A KIND WATERCRAFT:
MIRAGE DRIVE W/ GLIDE TECHNOLOGY
REMOVABLE KICK-UP RUDDER
HIGH-GRIP EVA DECKPADS
CARGO BUNGEE
QUICK SET ADJUSTABLE HANDLEBAR AND STEERING CONTROLS
QUICK SET HANDLEBAR RECEIVER
HIGH STRENGTH ADVANCED HULL DESIGN
OPTIONAL BOARD BAG, MIRAGE DRIVE BAG, AND CARTS
Here at Megrew´s Boats we stock a large supply of Mirage Eclipses and parts for the Hobie Mirage Eclipse community.
Visit the Hobie Web Site for more info on Hobie Mirage Eclipse